1st - 12th Grade Registration
Registration Requirements
In an effort to assist you with enrollment, the following checklist is provided as a reminder of the documents you will need to enroll your child(ren) in a Tomball ISD school. If you are unable to produce the documentation as outlined below, please ask to speak with a campus registrar for assistance. The person enrolling the student must be the student's natural parent, legal guardian, or other person with legal responsibility for the child along with documentation (such as a birth certificate, court order, power of attorney, etc.).
Documents Needed
Proof of Residence - (The proof of residence must be a hard copy in the name of the person with legal responsibility for the child or in the name of the person with whom you are living which requires an Affidavit of Residence. An Affidavit of Residence can be obtained through an online application and approval by Administrative Services, located at Central Office, 310 South Cherry Street, Tomball, Texas.)
Current Residents

Current Utility Bill (light, gas, or water)
Current Property Tax Statement (with Homestead Exemption)
Lease Agreement

Student(s) must be listed as an occupant on an apartment lease
An agreement between individuals requires both notarized signatures

House Payment Voucher
Affidavit of Residence
Future Residents

Letter from Home Builder *
Lease Agreement with the move-in date indicated *
* Move-in date must occur within 6 weeks of the student starting school. Move-ins occurring beyond 6-weeks after the student starts school must be approved by Administrative Services in the Central Administration Office.

Non-Residents

Inter-district Transfers are approved on a limited basis
Immunization Record
A record showing that the child has the
immunizations required
by Education Code 38.001, proof that the child is not required to be immunized, or proof that the child is entitled to provisional admission.
Social Security Card
In the state of Texas students are tracked by their state identification number. TEA prefers that students are coded using their Federal Social Security Number and we are required to ask for this information. We can only assign the social security number as the student's state id when we have acceptable proof of that number. If acceptable proof is not provided an alternative state id number may be used; however, this id is not accepted by institutions of higher education. Acceptable proof includes:
Copy of the Social Security Card
Records from the previous school
Income Tax Forms
Proof of Identification for Student (per the Texas Code of Criminal Procedure 63.019)
A certified copy of the child's birth certificate, or another document suitable as proof of the child's identity as defined by the Commissioner of Education in the Student Attendance Accounting Handbook.
The name of the previous school attended by the student
A copy of the child's records from the schools the child most recently attended
Proof of Identification for Person Enrolling Student
Current valid state, federal or international photo identification that contains the name, birth date, and signature
Proof of residency is defined above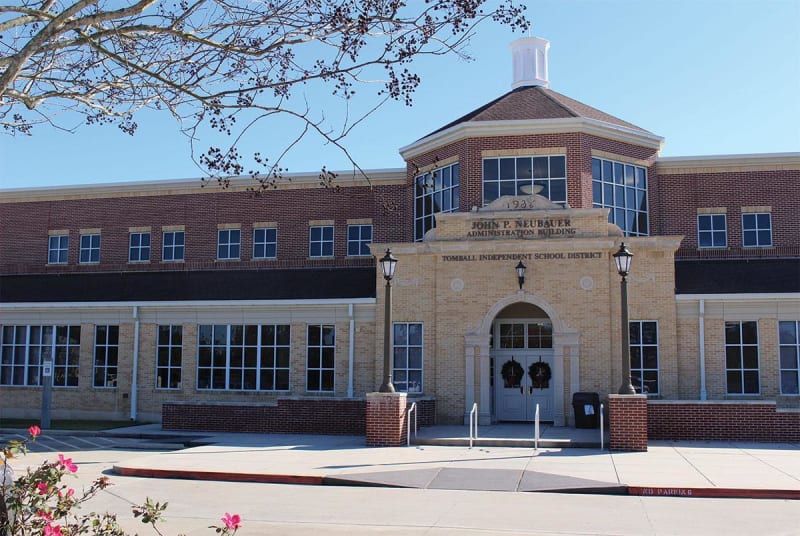 Age Requirements
Student Age is calculated as of September 1 of the current school year.
Pre-Kindergarten students must be age 4 on or before September 1 of the current school year as well as meet the eligibility requirements for PK.
Kindergarten students must be age 5 on or before September 1 of the current school year.
First-grade students must be age 6 on or before September 1 of the current school year.
Registrar Process
The registrar process/verifies registration by reviewing the information, documents, and eligibility that were provided once online registration is complete.
The campus registrar will contact the parents once the application is completed.
Registrars are off-duty during Summer Break. Applications will stay in pending status until their return to duty, which is listed below.
Thank you for your patience.
Registrar's Summer Duty Schedule
Campuses
Off Duty for Summer
Return to Duty from Summer

Elementary

Intermediate

June 3

July 22

Junior High

June 7

July 26

High School

June 21

July 17
Campus Registrar Information
Student(s) NEW or Returning to Tomball ISD
Parent/Guardian must log in to TISD LINK and complete the Pre-K -12th grade Online Registration using:
Parent/Guardian of the student(s) will need to start by creating an account, with name, address, email address, phone number, and setting up a username and password.

Follow directions to provide information on the student(s).

Upload ALL supporting documents.

Complete and submit the online registration application.

Wait for the campus registrar to process and verify the application. Once all supporting documents are submitted they will contact the parent/guardian who completes the application.