What Makes a Meal?
Tomball ISD operates the United States Department of Agriculture (USDA) School Breakfast Program and the National School Lunch Program.  Both are federally funded programs.
What makes a school breakfast meal?
In order to qualify for the unit breakfast price, a student much choose a complete breakfast meal:
Breakfast meal pattern consists of a minimum of three offered food item components:

• Fruit/Vegetable serving - must be selected as part of the meal
• Grains 
Some grain items count for 2 food item servings
Some grain items may also include a meat and count for 2 food item servings
• Fluid Milk (1% or fat-free white or fat-free flavored)
Under the guidelines of the School Breakfast Program for grades K-12, students must select 3 food items in the required serving sizes, one of which must be a ½ cup fruit or vegetable. Students may choose all components.
What makes a school lunch meal?
In order to qualify for the unit lunch price, a student much choose a complete lunch meal: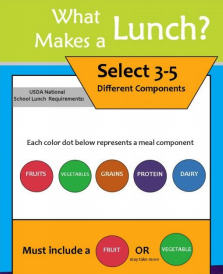 Lunch meal pattern consists of five offered food components:
• Fruits
• Vegetables
• Grains
• Meats/Meat Alternates 
• Fluid Milk (1% or fat-free white or fat-free flavored)

Under the guidelines of the National School Lunch Program, students must take at least 3 components in
the required serving sizes. One of the selections must be ½ cup from either the fruit or vegetable component. Students may choose all 5 food components
Below are links to the actual USDA meal pattern guidelines for breakfast and lunch:
Explore more MyPlate information below:
The New Dietary Guidelines for Americans 2020-2025
Below is a link to more information about the Dietary Guidelines for Americans for 2020-2025: